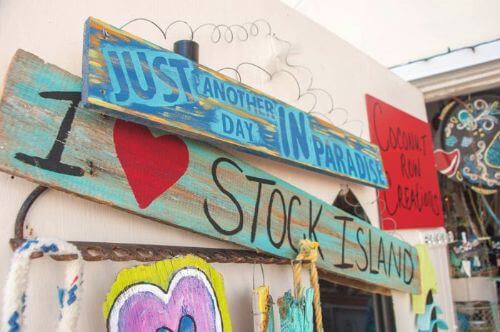 Festival Art Stroll Open House
June Friday 18, Saturday 19
Visit Stock Island's talented artists at their galleries and studio spaces during the I Love Stock Island Festival Art Stroll to see what makes the Stock Island art scene so unique. Stroll elements include live art demonstrations, music, shopping, and the opportunity to meet and chat with the artists of your favorite pieces.
The stroll is FREE. Follow along with the interactive map on the I Love Stock Island website.
Sacred Space Gallery & Working Art Studios celebrates the creativity of local, female artists featuring unique gifts & artwork made right here in the Florida Keys. We carry a variety of handcrafted items ranging from soap and candles to fine artwork, leather bags and windchimes.
Hours:
Sun- Tues: CLOSED
Wed – Sat: 11am – 5pm
Thursday June 16th – Join us for the Opening Reception for Kristen Norman's 'Hot Girl Summer' Collection 4-7 pm. Complimentary drinks, wine & hor'deurves and free parking on site.
Saturday June 18th – Meet the Maker featuring Zen Jewelry by Karen Moore and TJC Pottery during the Art Stroll 11 am – 5 pm. Take this unique opportunity to meet the artists who will be set up in our gallery with jewelry and pottery that we don't usually carry. Come enjoy complimentary bubbles and sip while you shop!
South Florida's premier furniture designer and wood artists. About our Furniture: Custom dinner tables, live edge tables, coffee tables, live edge wood slabs, runners, desks, restaurant furniture, benches, coasters and more. We use local hardwoods, either alone or mixed with an epoxy resin of your choice. Our Art is created using wood, resin, driftwood, and more. We offer a wide variety of colors, styles and textures. We can create custom pieces upon request, or work with something of yours. If you can dream it, we can create it.
Christine Fifer's Fine Art Studio
The space currently features both paintings and sculptures of Christine Fifer's signature Art Story work that weaves classic literature and historical curiosities with pun, puzzle, and didactic intent. The goal is to amuse, provoke thought, and encourage conversation. The sculptures are quiet, thoughtful, incredibly detailed little stories. Books rescued from dumpsters and long forgotten vintage ephemera combine with a collection of oddities, curiosities, and antique bits to give each piece its own breath.
Local Artists Creating Art
Featured Artists:
Perry Arnold, Sculptor
CRGray, Sculptor
Jeff Ware, Sculptor
Pam Kostameyer, Mixed Media Artist
AD Tinkham, Painter
Lucy Stevens, Painter
Lothar Speer, Artist
RM Walter, Artist
Conch Republic Body Essentials – Artisan Soaps
Jane Beck – Glass Fusion Artist